6 Awesome Tricks to Promote Your Podcast Through Instagram
If you want to make your podcast more popular, Instagram will be the best way to do it. If you aren't familiar with Instagram, this is a big social networking service primarily used for photo and video sharing.
Why you have to choose Instagram?
Instagram is the biggest social media platforms in the world for sharing images and videos. 50 % of its users are checking their feed every day while 35 % are doing it multiple times in one day period. These facts make Instagram a very good place to make a commercial of any kind of business, including podcasts.
Business Grow Guide: Instagram 101 and Beyond
Notice that 80 % of social networks traffic is a mobile one. So, mobile users could be the most valuable crowd for podcasters. Nowadays people are more likely will listen or watch some content than read a text version of it. It happens because of mobile internet technologies are nearly all around the world for now and it allows people to stay online anywhere in the globe. People who use municipal transport like train, tram or bus every day to go to the work and back home could be a target audience for podcaster too.
Instagram for promotion of a podcast
There are some advices to promote a podcast via Instagram.
1. Using the Stories
"Stories" is a new feature that debuted in Instagram in 2017 and now it's one of most popular features in the entire service. This feature also went to other social networks like Facebook, VK, ICQ, etc. "Stories" allows community to access with all the fresh content. It can be a group of posts too. The main difference between "Stories" and other Instagram content that your "Story" disappears in 24 hours.
You can use "Stories" as a commercial for the new episode of a podcast. As an example you can look at "Stories" of @podcastone – Instagram account of a big U.S.' podcast networks: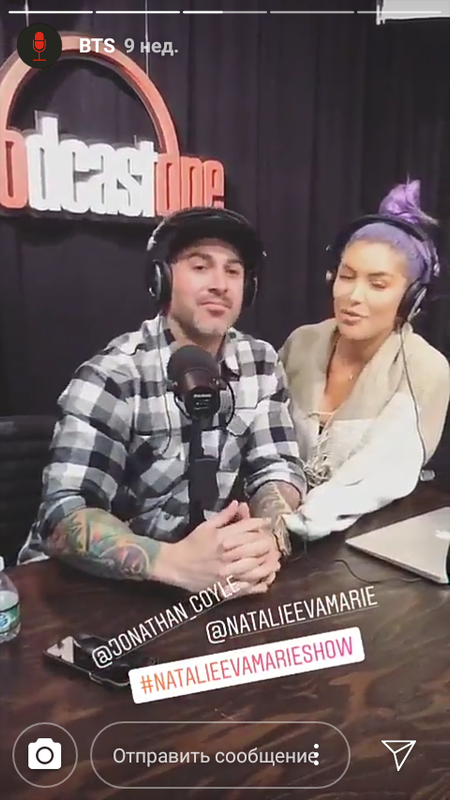 Instagram Stories can also be used as a platform to link your followers direct to audio file of your podcast. But you need at least 10,000 Instagram subscribers to do it.
2. Add the podcast link to your bio on Instagram
The "Bio" section on Instagram is a very important part of a profile. Instagram is mainly focused on photo and video content, but you can add the links to your profiles on other social networks via "Bio" section. If you are a podcaster, therefore you can use "Bio" section in your profile to share a link to your podcast.
"Bio" section is also very important because it shoes first information about you that people can see while visiting your profile. Linking a podcast to your Instagram Bio can increase your subscribers number if people like your visual content on Instagram.
A good example of this promotion tactics you can see in "Bio" of @astrologyroast – the network of Astrology podcasts.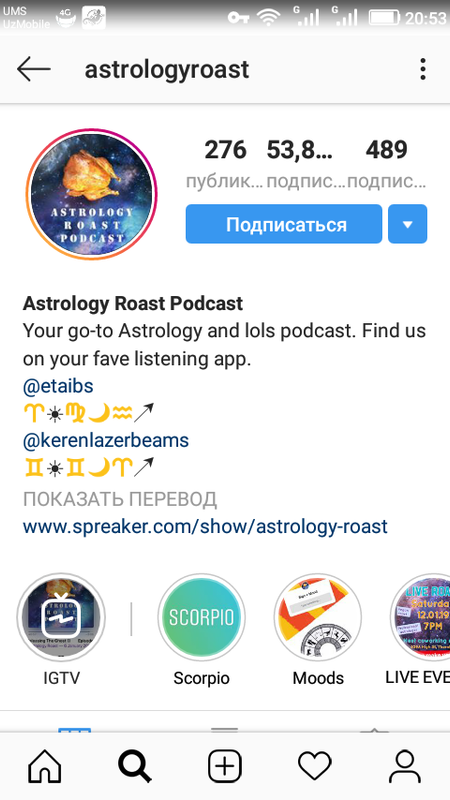 3. Announcing podcast guests on Instagram
If you are about to record a podcast with some influential individual or a specific professional of some industry, you have to announce it to fans of this individual or industry. Using Instagram to announce very special upcoming interview in your podcast is a great way to hype this episode. This kind of post will be targeted to everyone interested in upcoming episode's topic.
You can also add a photo of your guest to the Instagram post hyping interview with this person. And don't forget to tag the guest in this post, so your audience can introduce this person to themselves.
As an example look at @aliciaatout promoting her interview with famous actor and professional wrestler David Arquette.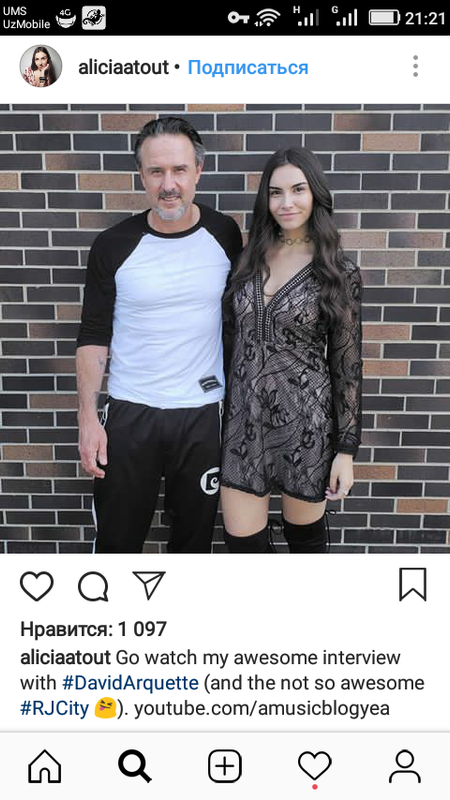 4. Creating personal hashtag
One more way to promote yourself and your podcast on Instagram is a use of personal hashtag. You can come up with hashtag for your podcast.
Instagram has a great feature of hashtag search and hashtag subscription. If you have just begun to record podcasts, you can use some simple hashtag for your podcast to be shown on thematic pages. For example, you can post announces on Instagram using hashtag #sportswear (if you're talking about it on your podcast) and your Instagram posts will be shown to the audience who follow this hashtag.
But when you already have some attention to your podcast, it's more valuable to use a personal hashtag. A good example of a personal hashtag usage you can find at #nftw – a hashtag for "Not For The Weak" podcast with James Mooney and Jeremy New.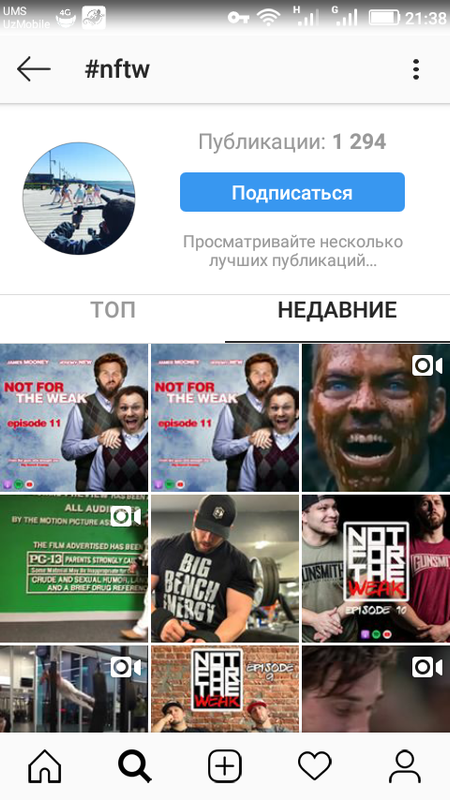 With a personal hashtag you can promote your business not only on Instagram but on other networks too.
5. Anchor.fm videos on Instagram
You can promote your podcast on Instagram by using the video post feature. To make a podcast video you can use an external service – Anchor.fm. This service allows you to create a simple video to introduce your podcast for Instagram subscribers. These videos are made from some short segments of your podcast using static or dynamic picture (this picture will show transcription of the podcast audio).
For example, look at the @demfancydinosaurs' (Zac Phillips) announce of his new podcast episode made by using Anchor.fm's features.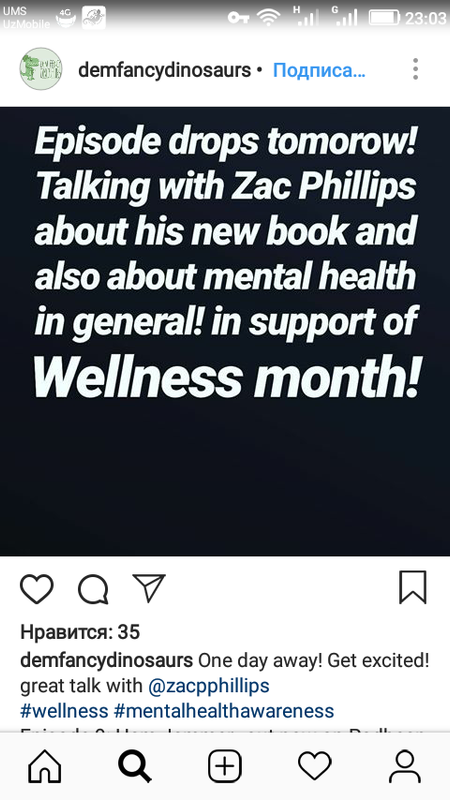 These simple videos can show your auditory the most interesting parts of your new podcast. The Anchor.fm's good transcription visuality can increase an interest for your podcast's upcoming episode.
6. Snackable content for your podcast
There some good reasons to use a snackable content on Instagram to promote your podcast:
it conducts very small videos;
it's easy to follow;
it's eye-catching.
If you have some experience of making short viral videos – you can make a snackable content by yourself. If not, you can use some online special features for it like Wavve.co.
Other reasons to use Instagram for the promotion of your business
As we told before, Instagram is a great platform to present your content visually. Also, there's no way to hide your content (like on Facebook or VK) and it's easy to follow you and subscribe to your profile or special hashtags. If you will use this social network correctly, it can make a big and good commercial for your products such as podcasts.
Even superstars and millionaires are using Instagram to make a hype around their projects. And you can use it too because Instagram is a great marketing tool.