How to block and delete an Instagram account?
How to block an Instagram account?
We are currently sharing a tremendous volume of private information on social networks. An indicative Facebook scandal proved that our posted data is too big and too personal. Although deleting all your profiles from social networks is a radical step. We understand that for some it may seem like the only possible option to protect their information.
If you decided to act more radically and wipe off all your accounts in social networks, our instructions will help you to delete your Instagram profile.
The removal method is quite easy but there are a few points you should pay attention to.
First, you have two options for deleting an account: temporarily and permanently.
The key difference is that if you remove your page forever, then all your photos and videos cannot be restored.
While temporary deletion only hides your content (it will not be shown to anyone), but your entire profile will be saved and restored if you decide to return to your profile.
How to block and delete an Instagram account?
Account blocking is a useful feature that is available to every user. It temporarily puts your account into an inactive mode and can be changed at any time.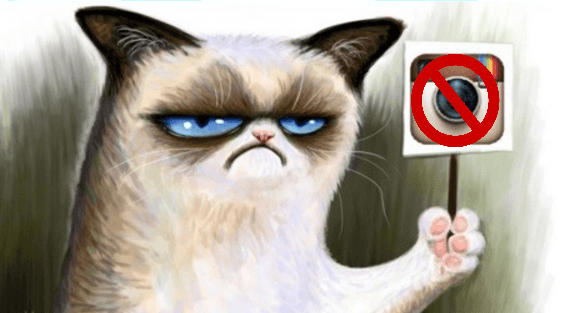 The Instagram service provides for its users a wide range of features that make working with this social network even easier. One of them is to block both your own account and other users' pages.
The need for blocking may arise if you have undergone spamming attacks, anticipate the likelihood of hacking, or simply want to take a break from this platform. Compliance with a few simple steps will allow you to perform the specified procedure and protect your account from intruders.
Temporarily disable your Instagram page
"Freezing" an Instagram profile will stop its activity for a period of time. User data, photos, and likes will be hidden to other people and will not be available for viewing. Restoring old account information will be possible only after its reactivation.
Based on this, we answer the question: "How to block an account on Instagram?".
1. Open a web browser on any electronic device and enter instagram.com in the address bar. It's important to know that the official app doesn't support the blocking option.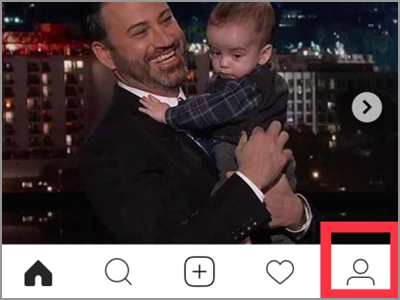 2. Click on your profile icon. On the panel that opens, select the "Edit Profile" action.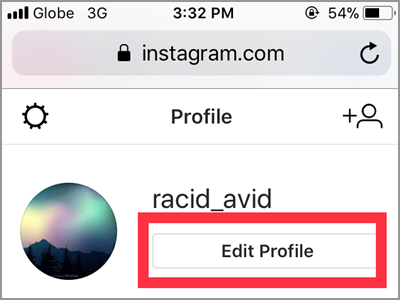 3. Then scroll to the bottom and find in the lower right corner this section: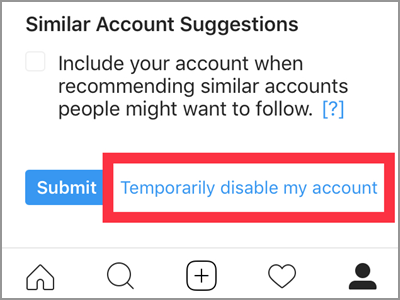 4. The service will ask you to specify the circumstances on the basis of which you decided to "freeze" your profile. Causes may be startup problems, too much advertising, privacy concerns, etc.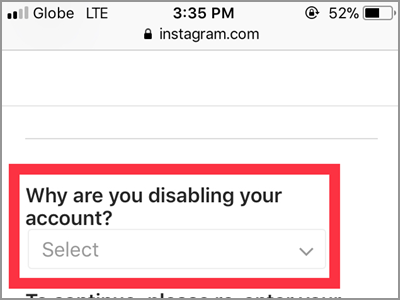 5. To complete the process, enter your current account password in a special window and confirm it.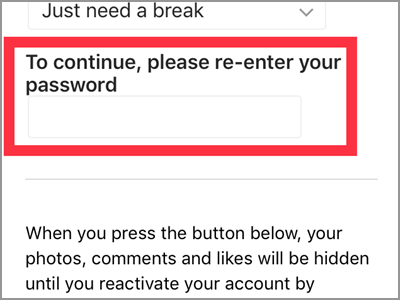 6. Click on the button.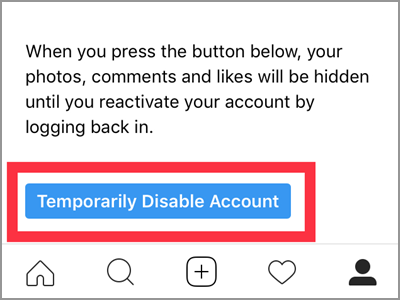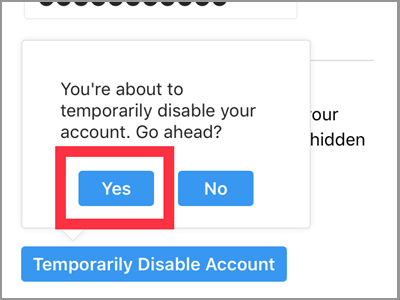 7. At this point, the temporary blocking process is finally completed. If necessary, you can always reactivate your profile. To do this, go to your account and fill out the form to restore your page.
Delete your Instagram account forever
A more radical method, after which all photos, comments, as well as likes in your profile will be deleted and won't be subject to restoration. The service developers recommend paying more attention to this process since it doesn't have a cusp. You can lose your important correspondences, followers and other data stored on servers.
To completely delete an account, run the following algorithm:
1. Enter Instagram.com in the browser search engine and go to the service official website.
2. Open your profile that you are willing to delete.
3. Go to the page for deleting your account.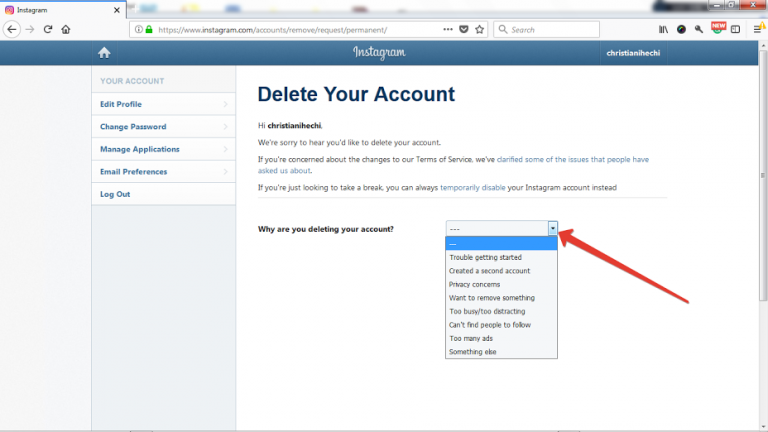 4. Fill out the form and confirm your password. Select the option to deactivate your account.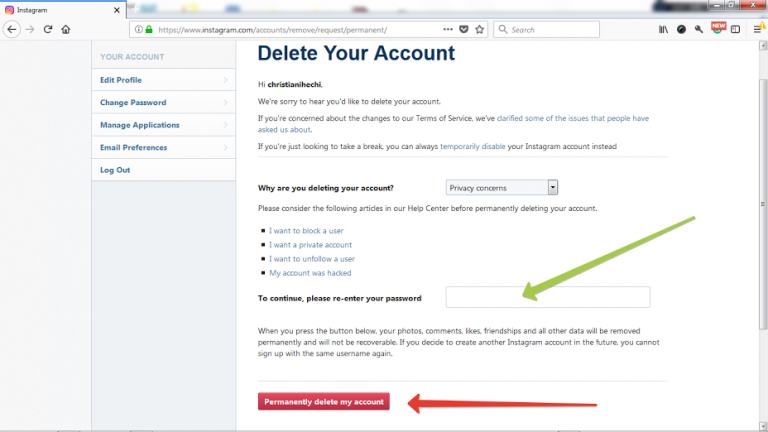 5. A message from the service will be shown on your screen indicating that your page has been forever removed. It will be required to register a new page if you have a desire to use Instagram again.
Blocking someone else's account on Instagram
Each user can prohibit entry to his page to a specific visitor. Blocked someone else's account won't be able to receive information about your posts and see your updates. Also, he won't be allowed to write in Direct, give likes, leave comments, etc.
Most often, this action is resorted to in the case of received spam from unfamiliar pages. However, other circumstances may also lead to blocking.
To prohibit an individual user, you need:
1. Open an Instagram profile that you want to blacklist. You can find it by entering the page login in the general search, among the list of followers or messages in Direct. Please note that blocking someone else's page is available both from a smartphone and from a computer.
2. In the other' account window click on the three horizontal dots in the upper right corner of the screen.
3. Select "Block" from the list of proposed options.
4. Instagram will ask you to confirm your action. Click on the "Block" message again. According to the service privacy rules, other users can't see that you blacklisted them.
5. All blocked users can be found in the settings section. Remove them from the blacklist is possible at any time.
6. Click on the gear icon and enter Instagram user settings.
7. In the "Privacy and Security" section, which is highlighted in black, go to the "Blocked users" tab.
8. You will see a page with all the blacklisted names.
9. Select the specific profile you wish to unblock. The service will take you to his page. Click on the three horizontal points. Then unblock someone else's account.
Now, this person will be able to send you the following requests, write messages, give "Like", etc.
Procedure in case of blocking your page by moderators
The Instagram administration constantly monitors compliance with the service rules. Your account can take advantage of attackers, after which it will be subject to a forced blocking.
To restore your account, contact the technical support and leave a request that the violation of the social network conditions wasn't your fault.
1. Click on this tab and go to the Instagram help service.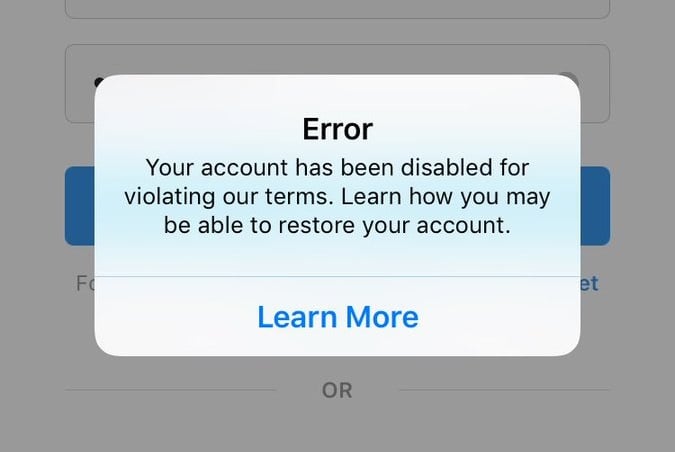 2. Then indicate that third parties have access to your profile.
3. Open the "I think my account was hacked" rubric.
4. You will see a page where users can describe a problem to the technical support specialist.
5. Properly fill out the proposed form. Recall all the hacking circumstances and carefully state them.
When writing to the administration, the user must indicate an email address through which the administration will be able to communicate with you. Indicate that the hacked page contained your personal photos or represented any brand belonging to you.
Each section list is recommended to fill as much as possible. It's reasonable to attach screenshots and documents.
Click the "Send" button. Technical support specialists will contact you within a few days. Instructions will be sent to your email address indicating further actions.
According to practice, by following this scheme user gets access to his profile in 5-7 days.
Upon successful completion of all actions, the administration unblocks your account on its own. All photos, followings, followers, likes will be restored to their original form.
However, from this point, it's better to start using the restored account with extreme caution. In the case of re-hacking, Instagram administration may can't make concessions and will permanently block your page.
Conclusion
Thus, when temporarily disconnecting their account, Instagram users are able to fully protect their personal data. When blocked by third parties, you can always count on qualified feedback from technical support services.
Try not to succumb to the tricks of attackers and use all the Instagram functionality.