Instagram marketing platforms
Advertising on Instagram can be very effective, it's important to examine the purchase process. Many brands are mistaken, believing that just advertising will necessarily lead to instant sales. It doesn't work as it seems at first glance. When a user clicks on your ad — this is not a sale. From the moment of advertising to making a purchase, the user has to go a few more steps. It's very important to create a sales funnel.
Remember! Users don't like blatant advertisements. Don't be a seller in the market who invites buyers. Such a strategy won't play into the hands of your brand. Use a more subtle approach. Some of the best Instagram ads don't even look like advertisements.
The real strength of Instagram Ads is the ability to grow your brand, communicate with a wider audience and gain trust. This ultimately leads to sales. No matter how difficult it is, think a few steps ahead. Instagram advertising is part of your overall strategy and will bring long-term results, so don't be disappointed if you don't get immediate sales growth.
Split testing is one of the most important aspects of advertising. Changing "Call to action", captions or photos can completely reverse the results of an advertising campaign. Instead of limiting yourself to one ad, make edits, experiment. Even the slightest difference matters.
Well, let's look at how to promote using Instagram ad platforms.
Firstly, to advance something you need followers, about 5,000, and a high level of interaction.
Once you meet these criteria, we start promoting:
Create an advertising post (it can be a photo or video).
Insert a corporate hashtag, mention or link to advance a brand.
Share it with your audience.
Get profit.
Working with advertisers
Since you are going to collaborate with several brands and help them carry out their marketing campaigns, you need to stay organized.
Before starting a campaign, try to find out the brand's marketing budget, its requirements and the problems they face.
This can be useful for price negotiations. You also need to set clear indicators to measure the success of your campaign.
Here are some ways to evaluate the effectiveness of your campaign and the value you create for brands.
Increased number of followers. Most brands will want to see their audience grow. If your readers trust you, many will follow the brands you recommended.
Traffic to the site. Of course, Instagram allows you to place links only in the bio, but using the UTM and Google Analytics parameters, the brand can separate the surge in traffic from your account. Again, this is an indicator of your influence.
Product sales. We would say that this is an indicator that everyone wants to see. If your word has an impact, and you can force the majority of your audience to buy products, then brands will flock to you.
Instead of looking for bloggers or advertisers by yourself, you can use special sites.
Best advertising platforms
Tribe is available as an iOS/Android app and acts as a bridge between brands and influential bloggers. You can control your creativity, mentioning brands in posts.
Here is a rough estimate Tribe map. Prices depend on the number of your followers.
Influicity. This is a marketing platform with databases of over 3 million people. You need to fill out a short form with personal data and data of your target audience.
After you are approved, you will get a console for creating content for advertisers, working together in campaigns and sending your content for review.
Hyprbrands. They claim to be the world's largest search engine for bloggers. Brands are given the opportunity to assess the influence of each post, including audience demographic data, the approximate number of views and sales.
As you understand, HYPR is brand-oriented, but you can also register as an influencer.
AspireIQ is another marketing platform for Instagram and YouTube with various niches, ranging from beauty to games. Blogger can send his offer to brands and backward.
Famebit is a marketing service owned by Google. It mainly works with YouTube publishers.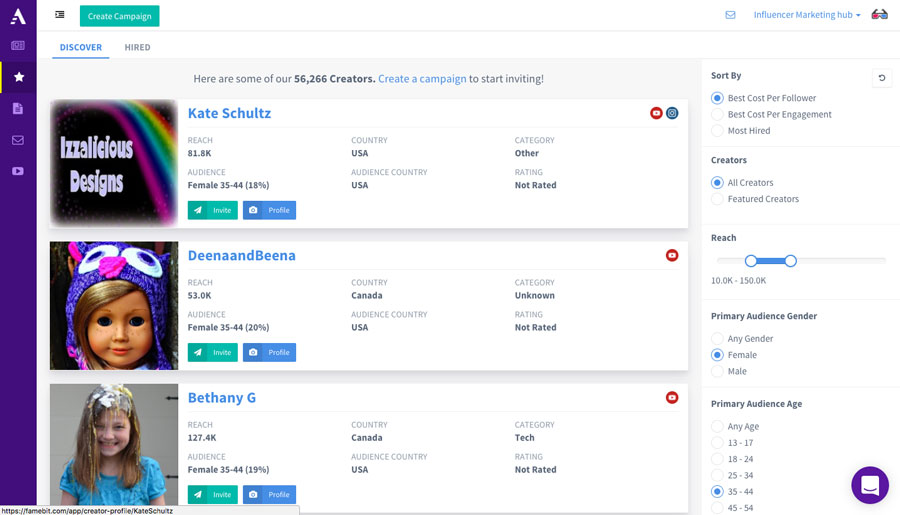 But if you wish, you can include an additional price for the post on Instagram.
Hypetap. This is a marketing platform that charges 10% per transaction. Registration is by invitation only.
They accept people who create high-quality content and have many followers on social networks. You can apply for participation by filling out this form.
If you want to test your influence and see if you have the right to invite, go here and enter your Instagram username.
Bonus platform for ambitious people: Tapinfluence. They differ from other marketing platforms in that blogger don't have to apply for sponsorship posts from brands. Instead, the brands show interest in working with him by themselves and tell about it.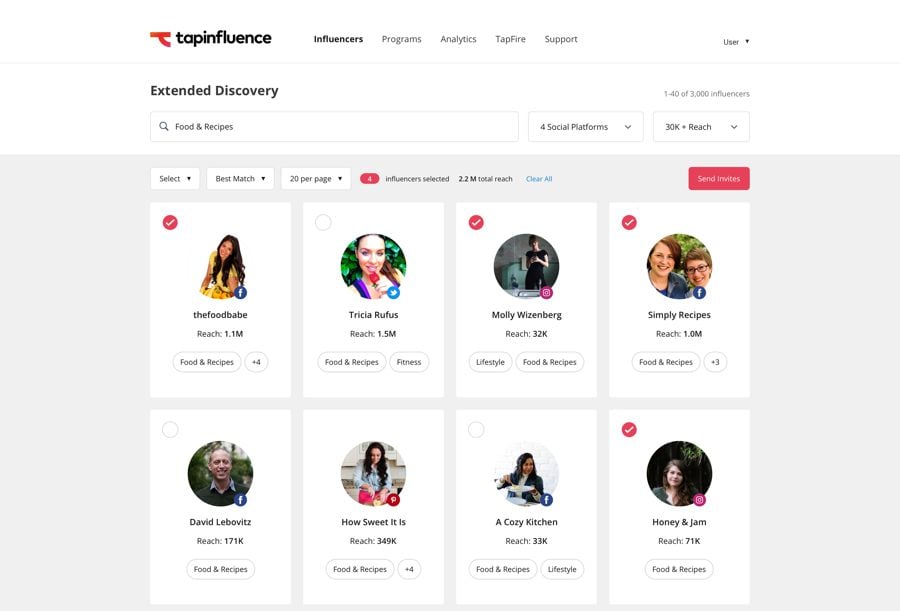 You can register on the platform here.
Affiliate Marketing
You must select an affiliate product to advertise if you are a blogger or offer your goods or services to influencers.
This can be done on special sites or affiliate program aggregators.
The algorithm of work on the site for bloggers
Registration.
Choosing an offer (affiliate product or service).
In some cases, you will have to get the approval of your Instagram account as an advertising platform.
Getting an affiliate link.
Placing an advertising post with an affiliate link in your account.
If the user follows your affiliate link and purchases a product or service, you will receive a reward.
Since Instagram doesn't allow to insert direct links into posts, usually affiliate links are inserted into the biography section, and the post indicates that the product link can be found in the bio.
Next, we will provide you with a list of popular affiliate programs:
Partner networks
Clickbank is a platform for many novice bloggers who want to monetize their traffic.
ShareASale is another popular affiliate marketing network with 40 product categories.
OfferVault is technically not a partner network. Rather, they are an aggregator for finding products to promote.
Peerfly is another pay-per-action affiliate network.
MaxBounty is another CPA network claiming that it has the best rates in the industry. MaxBounty has over 1,500 campaigns in various areas, including education.
Teespring. T-shirts selling may not seem very profitable but there are people like Benny Hsu, who within 5 months made a profit of $ 100,000 from this platform.
Promote your Instagram account using Zen-promo
Zen-promo is a service for an auto promotion of your account on Instagram.
It promises to advance your Instagram page almost without your participation. You just need to update your content, and the service will do the rest:
follow people from your target audience;
like new photos and comment to new or old followers;
welcome new readers in Direct and leave comments, that is, imitate the activity of a living person.
How to get started
Firstly, sign up on Zen-promo website, confirm your account by email and link your Instagram profile. If you have multiple pages try to link them all.
After adding the account you are on the start page. Immediately proceed to the settings of the normal version or switch to the PRO in order to evaluate all the features of the service.